Viper II Outdoor Badminton Net System
Quick Overview
Play on beach and grass without guy-wires, sand kits or ropes
Indoor conversion kits available (add-on accessory)
Holds up to professional play
Fast and easy one-person set up
Lifetime warranty and 30-day money-back guarantee
The Outdoor Badminton Net System for Those Who Play to Win
For some, badminton is just a chance to whack a shuttlecock around and enjoy a bit of sun. And then, there's the competitors – the die-hard players with a killer backhand and a drop shot that could make a grown man cry.
No matter what category you fall into, the Viper II Badminton Net System is the only portable badminton net designed without guy-wires or hazardous ropes – and the only net capable of keeping up with your game.
Built to last a lifetime (and with a warranty to match), this easy set up badminton net can be set up quickly by one person. Thanks to our patented Flex Pole Technology, the net stays tight all game and remains standing firm long after you've run the competition off their feet.
Professional-grade and easily portable, this is the best, last and only portable badminton net professional badminton players will ever need. All of our systems come with a heavy-duty carrying bag for safe storage and easy transport. Whether you choose to play on the sand or grass, we make it easy for you to play on-the-go.
What's Included:
2 Adjustable High-Strength Poles (ocean blue)
Pole Pads
Professional Badminton Net
Stretch Cords
Protector Cap (for driving stakes)
Washers
Ground Anchors
Dual Court Boundary Lines (pre-set for singles and doubles)
Heavy Duty Carrying Bag
Instruction Sheet
Set Up Instructions
Find a clear playing area, avoiding sprinkler heads and hidden lines. Drive the first stake firmly into the ground using a 6 lb sledgehammer until the stake is rock solid – usually about 20", depending on the composition of the soil. When the stake is solid, place a washer overtop.
With the badminton net attached to both of your poles, walk out the net to the opposite side of the court to find the right spot for your second stake. Drive in your second stake.
Carefully slide both of the net's poles overtop of both stakes.
Tighten by pulling the rope through the rope clamp. From here on out, that net will stay just as tight as you left it.
Get in the game – it's time to crush the competition!
Lifetime Warranty & Money-Back Guarantee
At Cobra Volleyball, we specialize in helping you find the perfect solution for your needs. That's why the Viper II Outdoor Badminton Net System has a Lifetime Warranty on all hardware – poles, ground anchor stakes, rope clamp, protector cap, guide plate, etc. under normal wear and tear. Soft components (Nets, boundary lines, pole pads, pole pad covers and carrying bag) come with a 2-year warranty. We've known nets to last over 20 years with minimal care.
We're also proud to offer a 30-day money-back guarantee. If you don't love your product (you will), you can return it, no questions asked. Return shipping is not included.
So what are you waiting for? Get your next game up and running within minutes with our easy set up badminton net systems! If you have any questions about our product, feel free to contact us at 877-586-2729.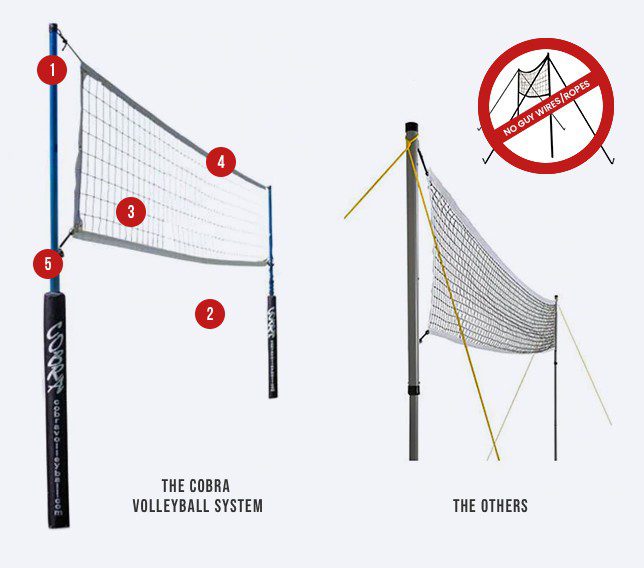 Designed to set up quickly, and last a lifetime.
No Guy Wires/Ropes
Fast One Person Set Up
Superior Net Play
Stays Tight All Game
Versatile – Play 5 Different Games