Anaconda Custom Pool Volleyball Net System
CLICK HERE TO ENTER YOUR POOL SPECIFICATIONS
Because all Anaconda Pool Volleyball Net systems are configured for each individual pool, we will need your pool specifications. Please click on the link above to complete the form. Filling out the form will email us specifications for your needs and allow us to get started right away: **Please allow additional time for the customization necessary to deliver a net system specific to your requirements**
Our pool volleyball net system will take your pool time to another level. Anacondas are custom made for your pool specifications. We've designed custom pool volleyball nets with offset deckings, sunbench sleeves, waterfall features and sleeves inside the pool (see video below). 30 day money back guarantee if you're not completely satisfied.
Easy to set up in 3 minutes or less
No ties, strings or knots
Our patented net tightening method is unique in the industry
Lifetime warranty and 30 day money back guarantee
Using our Patented technology from our indoor and outdoor volleyball nets, we've produced a quality pool volleyball system guaranteed to last a LIFETIME. It will endure the toughest level of play without bending, tearing or falling down. There are no ties, strings or knots to contend with, the poles are indestructible, and the special net tightening system will keep the net tight until you take it down. The Anaconda endures the toughest play as well as the effects of sun and water.
What's Included:
1 High Strength pole with rope clamp
1 High Strength pole with eye bolt
Custom Net (Made to fit your pool)
Stretch Cords
All Stainless Steel Hardware – Nothing to rust!
Custom Sleeve Adapte
Anaconda Setup: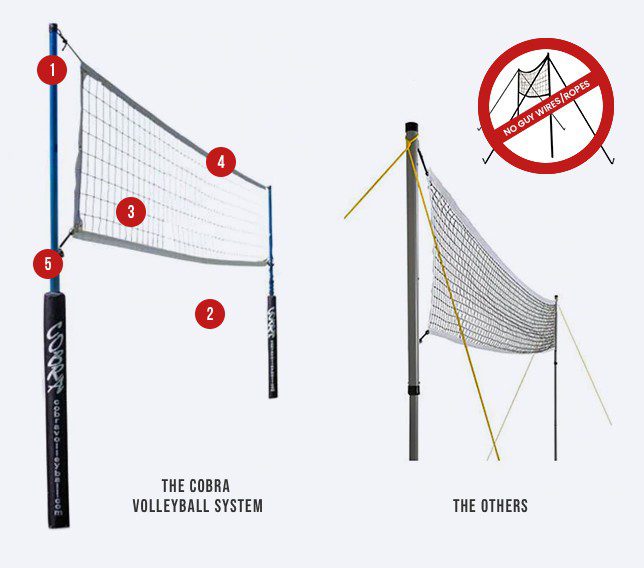 Designed to set up quickly, and last a lifetime.
No Guy Wires/Ropes
Fast One Person Set Up
Superior Net Play
Stays Tight All Game
Versatile – Play 5 Different Games