Cobra Beach Tennis Net System – Paddle Version
FOR SHIPPING OUTSIDE THE UNITED STATES: EMAIL INFO@COBRAVOLLEYBALL.COM FOR SHIPPING COST
Cobra Beach Tennis Net System – Paddle Version
Quick Overview
Play on both beach and grass without guy-wires, sand kits or ropes
Uses 26.25' x 52.5' (8m x 16m) court size and net height of 5'7"
Adjustable height settings for volleyball and badminton
Fast, easy one person set up
Lifetime warranty and 30-day money-back guarantee
Bring Your Game to the Beach Without Ropes or Sand Kits
The Cobra Beach Tennis Net System uses a patented Flex Pole Technology to keep the net tight and standing firm without guy-wires or sand kits, freeing up the entire playing area and keeping you safe from tripping hazards.
The paddle version of the Cobra Beach Tennis Net System is designed for play on an 8m x 16m court. This portable beach tennis net can be used on both grass and sand, and the 5-minute set up procedure is the same for both. Our one-of-a-kind tightening system holds the net taut for as long as you play – it simply won't allow the net to droop or sag! This portable beach tennis system comes with a convenient, heavy-duty carrying case for easy transport.
Play 3 Games With 1 System
Want to switch up your game? Adjustable height settings enable you to set your beach tennis net up to play badminton or volleyball in a matter of seconds. It's an ideal system for anyone who wants the ability to offer players multiple ways to enjoy their time outdoors.
What's Included:
2 Adjustable High-Strength Poles (ocean blue)
Pole Pads & Pole Covers
Regulation Beach Tennis Net
Stretch Cords
Guide Plate & Protector Cap (for driving stakes)
Washers
Ground Anchors
Boundary Line & Winder
Heavy Duty Carrying Bag
Instruction Sheet
Set Up Instructions
Even doing it solo, you'll have the Cobra Beach Tennis Net System up and running in no time flat.
Find a safe playing area clear of sprinkler heads and hazards. Using the guide plate, drive the first ground stake firmly into the sand, soil or grass using a 6 lb sledgehammer until it's firmly planted (usually 20 – 22" deep). When the stake is solid, slide a washer overtop.
With the net attached to both poles, walk the net out to the opposite side of the court to find the ideal position for your second stake. Using the guide plate, hammer in your second stake.
Carefully slide the Flex Poles overtop of both stakes.
Adjust the poles to your desired height and tighten the net with a quick pull.
Dig out your paddles, gather up some friends and hit the court – it's time to play!
Lifetime Warranty & Money-Back Guarantee
All Cobra Sports products have a Lifetime Warranty on all hardware - poles, ground anchor stakes, rope clamp, protector cap, guide plate, etc. under normal wear and tear. Soft components (Nets, boundary lines, pole pads, pole pad covers and carrying bag) come with a 2-year warranty. We've known nets to last over 20 years with minimal care.
We are also proud to offer a 30-day money-back guarantee. If you don't love your product (you will), you can return it, no questions asked. Return shipping is not included.
Dimensions:
The paddle version of the game uses a "short court" boundary which is 8 X 16 meters and a net height of 5 feet 7 inches.
Height Settings:
The Cobra is a high end tournament looking system and has height settings for three net games - volleyball, beach tennis and badminton. So it is adaptable to these games at one's choosing.
Shop with Confidence:
All of our products come with a lifetime warranty, moneyback guarantee and same day shipping if ordered by 2PM.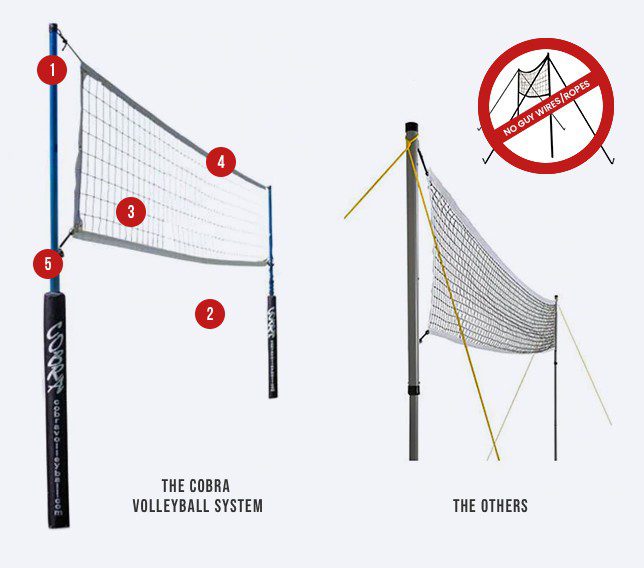 Designed to set up quickly, and last a lifetime.
No Guy Wires/Ropes
Fast One Person Set Up
Superior Net Play
Stays Tight All Game
Versatile – Play 5 Different Games